Omicron peak could come in 'the next 10 to 14 days' in Wales
THE FIRST MINISTER Mark Drakeford has said he is 'hopeful' figures in Wales could start to reduce from around two weeks' time.
The comments came during the live briefing held yesterday lunchtime in Cardiff, with the First Minister referring to modelling several times and comparing it to what has been recorded in firm figures.
The First Minister said of the above slide, "It shows you how the modelling that we've had done for us here in Wales shows how the Omicron wave wave is expected to behave. The blue line shows how cases are predicted to grow over the coming weeks. The black line shows the actual confirmed cases.
"As you can see, the actual cases are following very closely the predicted wave, and what the wave shows is the speed at which the Omicron wave will break over us and then how cases decline at a relatively rapid rate as well.
"Now we haven't reached the peak of that wave yet, it could be within the next 10 to 14 days. But we will get to the top of the wave and then hopefully we will see the numbers reducing again here in Wales.
"The latest figures show that there are more than 2300 cases per 100,000 people across Wales. Cases are highest amongst 20- to 39-year-olds but we are also now seeing rises in older age groups. As community transmission increases rapidly, while the figures are clearly concerning, they are in line with what the modelling forecasts told us."
"Every close contact is an opportunity for it to spread."
Data was also released on the number of people to being admitted to hospital with coronavirus, "The latest figures show that there are now a total of 994, just under 1000, COVID-19 patients in our hospitals in Wales and that is a 43% increase on a single week and that number is the highest we have seen in Welsh hospitals since March of last year".
"There are now around 40 people are so ill in hospital that they have to receive critical care and the majority of those people are people who have not been vaccinated. Very sadly since just the start of this year, public health Wales has reported 38 New deaths from coronavirus."
When asked about reversing restrictions, and what timeframes could be involved, the First Minister said, "As people will have seen from the model that we showed earlier, the position over the next 10 days to two weeks is not going to be one that is easing.
"The numbers are likely to continue to rise. So it will not be until we have past the peak of infections and we are sure that we can see the pressures on the spread of this virus in the community are beginning to reduce, and will then take a while as it always does to feed through into reducing pressure on health services, hospital services, critical care services.
"So I don't anticipate that over the next fortnight we will be in a position to move away from the level of restrictions we currently have in place. But, we will track it every day. We will review it every week. And when we see that corner being turned and we can see the number as we hope coming down reasonably rapidly. That will be the point at which we will be able to assess when it is safe to begin to lift the extra restrictions and protections we put in place so far."
Give blood, save lives – Do something memorable this National Blood Donor Week
THE WELSH BLOOD SERVICE is urging people to consider becoming blood donors to help save lives this National Blood Donor Week.
Over 350 blood donations are needed every day across Wales. The donations play a vital role in saving lives by supporting a range of treatments, from helping recovering accident victims and patients with blood cancers to supporting mothers and newborn babies during childbirth.
The Welsh Blood Service supports 20 hospitals across the country and relies on donations from blood, platelet and bone marrow donors to help patients in need.
Supporting the call is 65-year-old Howard Provis, one of Wales' longest serving donors with nearly 50 years of dedication to the service. Howard has been donating platelets since the age of 18 and has recently made his 1,000 th donation which has helped save the lives of thousands of people across Wales.
Encouraging more people to come forward following his own experience, Howard explains, "With a background in first aid and first responding, I have seen people in many situations that have required blood. For me being able to give blood or platelets has given some of those people a second chance to live or spend precious extra time with their families and friends.
"Tomorrow, it could be me that needs a blood or platelet donation, or my wife, family or a friend. The thought that my donation today could potentially save someone's life tomorrow has inspired me to keep supporting the Welsh Blood Service."
Speaking of Howard's achievement Alan Prosser, Director of the Welsh Blood Service explains, "Howard is one of only a handful of donors to reach this incredible milestone, and his donations will have helped patients in need from hospitals across the whole of Wales.
"His commitment to helping others is truly inspirational, and we hope his story encourages others to start their own lifesaving journey this National Blood Donor Week."
National Blood Donor Week is an opportunity for blood services across the UK to raise awareness of the lifesaving importance of blood donation and encourage those who have never donated to give it a go.
The week also incorporates World Blood Donor Day (June 14), a day of celebration and thanks to the thousands of people who give up their time freely to donate and help people in need.
Alan continues, "We must say a huge thank you to every single donor who has supported us over the past two years. It has been a challenging period, but the generosity of people across Wales has been unwavering.
"As our Service works towards a post-covid collection service, we hope more people will step forward and join our lifesaving team. Following changes to UK donation guidelines, more people than ever before can safely donate, which means there has never been a better time to give it a go."
June 14 is also the one-year anniversary of the landmark changes introduced following the recommendations made by the FAIR (For the Assessment of Individualised Risk) steering group.
These pioneering changes to donation rules have meant that all donors, regardless of gender, are now asked a set of questions, meaning that more people than ever before, including those from the LGBTQ+ community are potentially eligible to donate.
You can book your first or next blood donation appointment by visiting www.wbs.wales/nbdw22 and if you are 17-30, you can also consider signing up to the Welsh Bone Marrow Donor Registry.
For those who cannot donate, you can still become a Welsh Blood Service supporter.
Sharing their social media posts, encouraging your friends, family and colleagues to raise awareness of the importance of donating blood, platelets and bone marrow.
To learn more about donating blood, platelets and bone marrow, or to book, visit www.welshblood.org.uk.
Childhood hepatitis outbreak – four more cases in Wales under investigation
PUBLIC HEALTH WALES is investigating four more cases of acute hepatitis among children.
Health officials have identified 17 cases in Wales, an increase of four cases since the last update on 6 May.
UK Health Security Agency launched an investigation in April after hospitals reported a rise in cases of acute childhood hepatitis with no known cause.
Typically, UK hospitals see about 20 cases a year that are not caused by common hepatitis viruses, but cases this year are nearly 10 times higher.
A number of hypotheses are being investigated and the information gathered so far increasingly suggests that the rise in these cases may be linked to adenovirus infection, with other factors likely to be playing a role.
Dr Ardiana Gjini, Consultant in Communicable Disease Control for Public Health Wales, said:
"Hepatitis can cause jaundice and inflammation of the liver, so parents and carers should be aware of the symptoms of jaundice – including skin with a yellow tinge which is most easily seen in the whites of the eyes.
"We are reminding the public to familiarise themselves with this and other symptoms of hepatitis in light of these UK cases.
"In addition, the importance of maintaining normal hygiene routines, especially ensuring that children wash their hands properly, help to reduce the spread of many common infections.
"Parents and carers are reminded that they should keep their children away from school and seek advice from a GP or an appropriate specialist if their child experiences any symptoms linked with hepatitis."
Hepatitis symptoms include:
dark urine
pale, grey-coloured poo
itchy skin
yellowing of the eyes and skin (jaundice)
muscle and joint pain
a high temperature
feeling and being sick
feeling unusually tired all the time
loss of appetite
tummy pain
Regular updates on the ongoing investigation into the cases in the UK can be found on the UKHSA website.
Monkeypox Q&A: how do you catch it and what are the risks? An expert explains
THE LATEST outbreak of monkeypox has, at the time of writing, reached 17 countries with 110 confirmed cases and a further 205 suspected cases. It's a fast-moving story, so if you need to catch up on the latest, here are answers to some of the most pressing questions.
How is monkeypox spreading?
The first patient in the current outbreak had returned to the UK from travels to Nigeria where monkeypox is endemic. However, cases are now spreading among people who have not travelled to west or central Africa, suggesting local transmission is occurring.
Monkeypox usually spreads by close contact and respiratory droplets. However, sexual transmission (via semen and/or vaginal fluid) has been posited as an additional possible route. The World Health Organization (WHO) says: "Studies are needed to better understand this risk."
Most cases in the current outbreak have been in youngish men, but the virus can spread to anyone.
There are no confirmed cases in Pembrokeshire at the present time.
What are the symptoms?
Early symptoms are flu-like, such as a fever, headaches, aching muscles and swollen lymph nodes.
Once the fever breaks, a rash can develop, often beginning on the face and then spreading to other parts of the body – most commonly the palms of the hands and soles of the feet.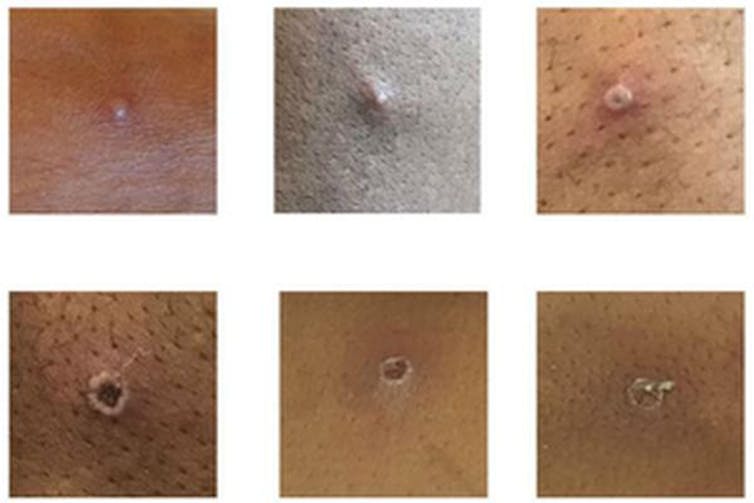 How deadly is monkeypox?
Monkeypox is mostly a mild, self-limiting disease lasting two-to-three weeks. However, in some cases, it can cause death. According to the WHO, the fatality rate "in recent times" has been around 3% to 6%. The west African monkeypox virus is considered to be milder than the central African one.
Monkeypox tends to cause more serious disease in people who are immunocompromised – such as those undergoing chemotherapy – and children. There have been no deaths from monkeypox in the current worldwide outbreak, but, according to the Daily Telegraph, one child in the UK is in intensive care with the disease.
Why is it called monkeypox?
Monkeypox was first identified in laboratory monkeys (macaques) in Denmark in 1958, hence the name. However, monkeys don't seem to be the natural hosts of the virus. It is more commonly found in rats, mice and squirrels. The first case in humans was seen in the 1970s in the Democratic Republic of the Congo.
Is monkeypox related to smallpox and chickenpox?
Monkeypox is related to smallpox – they are both orthopoxviruses – but it is not related to chickenpox. Despite the name, chickenpox is a herpes virus, not a poxvirus. (How "chicken" got in the name is not entirely clear. In his dictionary of 1755, Samuel Johnson surmised that it is so named because it is "of no very great danger".) Nevertheless, the vesicles (little pus-filled blisters) caused by monkeypox are similar in appearance to those of chickenpox.
Are cases likely to continue rising?
Cases are likely to continue to rise significantly over the next two-to-three weeks, but this is not another pandemic in the making. Monkeypox doesn't spread anywhere near as easily as the airborne virus SARS-CoV-2 that causes COVID-19.
Has monkeypox evolved to be more virulent?
RNA viruses, such as SARS-CoV-2, don't have the ability to check their genetic code for mistakes each time they replicate, so they tend to evolve faster. Monkeypox is a DNA virus, which does have the ability to check itself for genetic mistakes each time it replicates, so it tends to mutate a lot slower.
The first genome sequence of the current outbreak (from a patient in Portugal) suggests that the virus is very similar to the monkeypox strain that was circulating in 2018 and 2019 in the UK, Singapore and Israel. So it is unlikely that the current outbreak is the result of a mutated virus that is better at spreading.
How is monkeypox diagnosed?
In the UK, swab samples taken from the patient are sent to a specialist laboratory that handles rare pathogens, where a PCR test is run to confirm monkeypox. The UK Health Security Agency has only one rare and imported pathogens laboratory.
Is there a vaccine for it?
Vaccines for smallpox, which contain the lab-made vaccinia virus, can protect against monkeypox. However, the vaccine that was used to eradicate smallpox can have severe side-effects, killing around one in a million people vaccinated.
The only vaccine specifically approved for monkeypox, Imvanex, is made by a company called Bavarian Nordic. It uses a nonreplicating form of vaccinia, which causes fewer side-effects. It was approved by the US Food and Drug Administration and the European Medicines Agency in 2019 – but only for use in people 18 years of age or older.
UK health secretary Sajid Javid said that the UK government will be stocking up on vaccines that are effective against monkeypox. The UK currently has about 5,000 doses of smallpox vaccine, which has an efficacy of around 85% against monkeypox.
Are there drugs to treat it?
There are no specific drugs to treat monkeypox. However, antivirals such as cidofovir and brincidofovir have been proven to be effective against poxviruses in animals and may also be effective against monkeypox infections in humans.
By Ed Feil, Professor of Microbial Evolution at The Milner Centre for Evolution, University of Bath
This article is republished from The Conversation under a Creative Commons license. Read the original article.