Monkeypox Q&A: how do you catch it and what are the risks? An expert explains
THE LATEST outbreak of monkeypox has, at the time of writing, reached 17 countries with 110 confirmed cases and a further 205 suspected cases. It's a fast-moving story, so if you need to catch up on the latest, here are answers to some of the most pressing questions.
How is monkeypox spreading?
The first patient in the current outbreak had returned to the UK from travels to Nigeria where monkeypox is endemic. However, cases are now spreading among people who have not travelled to west or central Africa, suggesting local transmission is occurring.
Monkeypox usually spreads by close contact and respiratory droplets. However, sexual transmission (via semen and/or vaginal fluid) has been posited as an additional possible route. The World Health Organization (WHO) says: "Studies are needed to better understand this risk."
Most cases in the current outbreak have been in youngish men, but the virus can spread to anyone.
There are no confirmed cases in Pembrokeshire at the present time.
What are the symptoms?
Early symptoms are flu-like, such as a fever, headaches, aching muscles and swollen lymph nodes.
Once the fever breaks, a rash can develop, often beginning on the face and then spreading to other parts of the body – most commonly the palms of the hands and soles of the feet.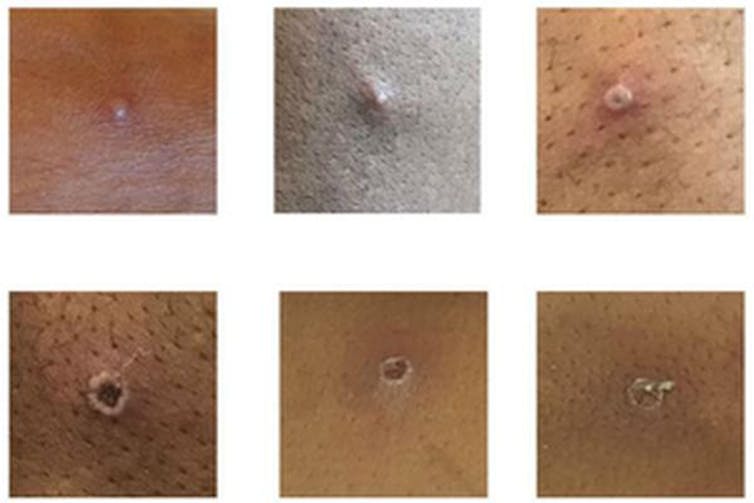 How deadly is monkeypox?
Monkeypox is mostly a mild, self-limiting disease lasting two-to-three weeks. However, in some cases, it can cause death. According to the WHO, the fatality rate "in recent times" has been around 3% to 6%. The west African monkeypox virus is considered to be milder than the central African one.
Monkeypox tends to cause more serious disease in people who are immunocompromised – such as those undergoing chemotherapy – and children. There have been no deaths from monkeypox in the current worldwide outbreak, but, according to the Daily Telegraph, one child in the UK is in intensive care with the disease.
Why is it called monkeypox?
Monkeypox was first identified in laboratory monkeys (macaques) in Denmark in 1958, hence the name. However, monkeys don't seem to be the natural hosts of the virus. It is more commonly found in rats, mice and squirrels. The first case in humans was seen in the 1970s in the Democratic Republic of the Congo.
Is monkeypox related to smallpox and chickenpox?
Monkeypox is related to smallpox – they are both orthopoxviruses – but it is not related to chickenpox. Despite the name, chickenpox is a herpes virus, not a poxvirus. (How "chicken" got in the name is not entirely clear. In his dictionary of 1755, Samuel Johnson surmised that it is so named because it is "of no very great danger".) Nevertheless, the vesicles (little pus-filled blisters) caused by monkeypox are similar in appearance to those of chickenpox.
Are cases likely to continue rising?
Cases are likely to continue to rise significantly over the next two-to-three weeks, but this is not another pandemic in the making. Monkeypox doesn't spread anywhere near as easily as the airborne virus SARS-CoV-2 that causes COVID-19.
Has monkeypox evolved to be more virulent?
RNA viruses, such as SARS-CoV-2, don't have the ability to check their genetic code for mistakes each time they replicate, so they tend to evolve faster. Monkeypox is a DNA virus, which does have the ability to check itself for genetic mistakes each time it replicates, so it tends to mutate a lot slower.
The first genome sequence of the current outbreak (from a patient in Portugal) suggests that the virus is very similar to the monkeypox strain that was circulating in 2018 and 2019 in the UK, Singapore and Israel. So it is unlikely that the current outbreak is the result of a mutated virus that is better at spreading.
How is monkeypox diagnosed?
In the UK, swab samples taken from the patient are sent to a specialist laboratory that handles rare pathogens, where a PCR test is run to confirm monkeypox. The UK Health Security Agency has only one rare and imported pathogens laboratory.
Is there a vaccine for it?
Vaccines for smallpox, which contain the lab-made vaccinia virus, can protect against monkeypox. However, the vaccine that was used to eradicate smallpox can have severe side-effects, killing around one in a million people vaccinated.
The only vaccine specifically approved for monkeypox, Imvanex, is made by a company called Bavarian Nordic. It uses a nonreplicating form of vaccinia, which causes fewer side-effects. It was approved by the US Food and Drug Administration and the European Medicines Agency in 2019 – but only for use in people 18 years of age or older.
UK health secretary Sajid Javid said that the UK government will be stocking up on vaccines that are effective against monkeypox. The UK currently has about 5,000 doses of smallpox vaccine, which has an efficacy of around 85% against monkeypox.
Are there drugs to treat it?
There are no specific drugs to treat monkeypox. However, antivirals such as cidofovir and brincidofovir have been proven to be effective against poxviruses in animals and may also be effective against monkeypox infections in humans.
By Ed Feil, Professor of Microbial Evolution at The Milner Centre for Evolution, University of Bath
This article is republished from The Conversation under a Creative Commons license. Read the original article.
Bereavement books to support children at Bronglais Hospital
THANKS to donations, Hywel Dda Health Charities has purchased a collection of children's books on bereavement for the Meurig oncology ward at Bronglais Hospital.
The books help families to support children when there has been a terminal cancer diagnosis.
Ellen Masters, Meurig Ward Administrator, said: "By having these books on the ward we are able to guide and support children and young people dealing with bad news and bereavement.
"Using stories and activities can be a really good way to discuss issues with a child who has been bereaved, helping them to explore feelings and emotions around loss.
"Parents also appreciate having something they can read to children which deals sensitively with the issues."
Pictured with some of the books is Senior Ward Sister Alaw Ciornei.
Nicola Llewelyn, Head of Hywel Dda Health Charities, the official charity of Hywel Dda University Health Board, said: "The support of our local communities enables us to provide services over and above what the NHS can provide in the three counties of Hywel Dda and we are extremely grateful for every donation we receive."
For more details about the charity and how you can help support local NHS patients and staff, go to www.hywelddahealthcharities.org.uk
NHS Dental Treatment in Wales Still 55% Lower Than Pre-Pandemic Levels
RESPONDING to figures released this week showing that the number of courses of NHS dental treatment are still 55.1% lower than the year prior to the pandemic, the Welsh Liberal Democrats have reiterated their calls for the use of dental hygienists and dental nurses to be increased to help clear backlogs.
Overall, there was a decrease of 35.5% (539,959 patients) in the total number of patients treated, and the percentage of the total population treated decreased by 17.0 percentage points. This is the largest decrease for both adults and children since the series began in the 24-month period ending March 2006.
The figures also show a worrying decline in the number of children treated decreased with a reduction of 33.6% (125,246 patients).
Welsh Liberal Democrat Leader Jane Dodds MS told The Ceredigion Herald: "The figures we see today are very concerning. An inability to access an NHS dentist continues to be one of the main concerns I hear from my constituents.
"Just over the course of this summer, the largest town in Powys lost two out of four of its dental practices and the picture is similar across much of Wales.
"Everyone understands the challenges faced by dentistry following the pandemic. However, there are actions the Welsh Government can take both in the here and now and in the longer term to help clear backlogs and get NHS dentistry back on track.
"When I've spoken to industry experts over the summer they have all said the same thing, increasing the number of dental nurses and dental hygienists, as well as broadening the work they are allowed to do will help clear backlogs.
"I will continue to press Labour to make these changes as soon as possible."
Local Businesses help raise astonishing £10,000 for Cardio-Respiratory Ward at Bronglais Hospital
THE ORGANISERS of the 2021 Aberystwyth Businesspersons' Lunch have donated the £10,000 proceeds to the Cardio-Respiratory Ward at Bronglais Hospital.
Consultant Cardiologist Dr Donogh McKeogh; Aled and Rose Rowlands;
John Davies' widow Ann; Frank Bridle; John's daughter and son, Angharad
and Rhodri; and Iestyn Leyshon
The lunch last December was in memory of well-known local businessman, jeweller and musician John Davies, who had helped organise the annual lunch for many years but sadly passed away just a few months before.
"John was such a lovely man, a pillar of the town and so well thought of, that we decided it was fitting that the lunch should be in his memory and that the proceeds should go to the cardiac unit where he had been treated for so many years," said Aled Rowlands, who organised the lunch along with Frank Bridle, Layla Mangan, Gary Pemberthy, Huw Bates and Iestyn Leyshon.
"It was a very successful day, with nearly 200 people enjoying a lunch, comedian, band, auction and raffle. It was a fitting tribute to John who was such a big part of the town."
John Davies joined his parents' business at T J Davies at the age of 16 where he worked for 64 years after leaving Llandaff Cathedral School. He passed away in August 2021, at the age of 80.
John's wife Ann and children Angharad and Rhodri said: "We were delighted at the generous amount that was raised in his memory at the Businesspersons Christmas lunch.
"Charity work was important to John, through his membership of the Lions Club and it is fitting that the money raised went to a department where he personally received such care and attention from Dr McKeogh and his team.
"John will be remembered not only as a businessman but also as a keen and talented trumpeter, playing with Aberystwyth Town Band, Aber Jazz and Philomusica, to name but a few, as well as playing carols with the Town Band every Christmas Day around Bronglais Hospital wards and care homes in the town."
Pictured at the cheque presentation at Bronglais Hospital are (from left) Consultant Cardiologist Dr Donogh McKeogh; Aled and Rose Rowlands; John Davies' widow Ann; Frank Bridle; John's daughter and son, Angharad and Rhodri; and Iestyn Leyshon.